Disclosure: This shop has been compensated by Collective Bias, Inc. and Conagra Brands. All opinions are mine alone. #reddiforfall #CollectiveBias
Pumpkin Roll Trifle – An elegant fall dessert that's perfect to feed a crowd! Gorgeous layers of pumpkin roll, crushed gingersnaps, pumpkin mousse, and whipped cream!
So this trifle is just phenomenal! I am so happy with how everything about this trifle turned out! This was my very first time making a trifle, and I was so excited to get to share this incredible dessert with friends! With fall season in full swing, I have been looking forward to getting my first pumpkin roll of the season but this year, I wanted to do something special with it, something creative and over the top, so I decided to making a Pumpkin Roll Trifle with it!
Want to try making this recipe? Hover over the photo to click through to Walmart Grocery to get the products!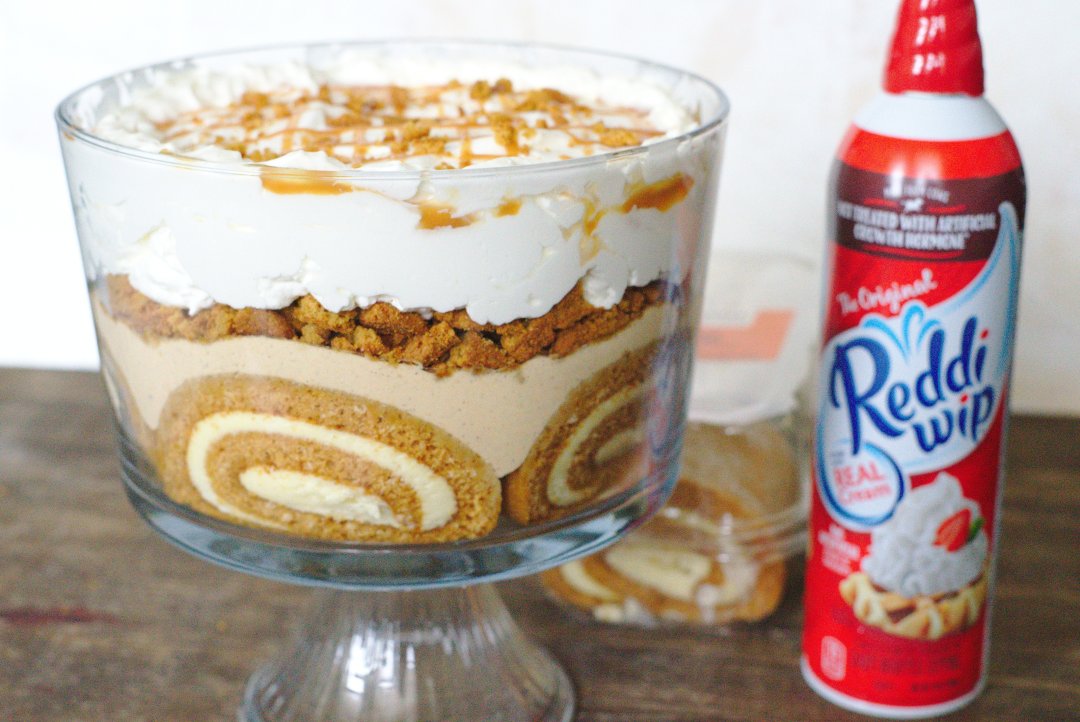 This may be surprising, but this dessert is actually really easy to make! I am already on planning on making it again for Thanksgiving because it is such an awesome way to feed a crowd! All you have to do it slice up the pumpkin roll, whip up the pumpkin mousse, crush some gingersnaps, and layer everything.  Make sure you have a trifle dish before you make this!
To get everything I needed to make the trifle, I popped over to my local Walmart and grabbed a The Bakery at Walmart Pumpkin Cake Roll with Cream Cheese Filling and Reddi–wip®! Those were essential items for this recipe and really easy to find with the Pumpkin Roll being located right in the refrigerated section of the bakery and the Reddi-wip in the refrigerated dairy section.
As soon as I got home, I got right to work on making the trifle up! I topped it with caramel sauce and if you have the time to make some homemade, I highly suggest! It really brings out the flavors of the Pumpkin Roll in the trifle wonderfully!
Pumpkin Roll Trifle
Ingredients
3 cups crushed gingersnaps
8 cups whipped topping (I used

Reddi

–

wip

)
1/4 cup pumpkin puree
1/4 cup pure maple syrup
1/2 tsp cinnamon
1/8 tsp ginger
1/8 tsp nutmeg
Pinch of cloves
Directions
In a large mixing bowl, mix together pumpkin puree, pure maple syrup, cinnamon, ginger, nutmeg, and cloves.  Fold in 4 cups of whipped cream carefully, do not over mix.  Set aside.
Cut the pumpkin roll into 1/4″ slices.  Place slices along the bottom edge of the dish (my trifle dish used exactly 5 slices of the Pumpkin Roll to line the base).  Place additional slices laying down on the bottom to line it (2 slices laying down worked perfect for my dish).
Place 2 cups of whipped topping on top of the Pumpkin Roll slices at the bottom of the dish.  smoothing it around a bit with a spoon to make sure it is even.
The next layer is some of the crushed gingersnaps.  Sprinkle 1 cup of the gingersnaps on top of the whipped topping layer.
Transfer the pumpkin mousse from the mixing bowl into the trifle dish, smoothing it around a bit with a spoon to make sure it is even.
Sprinkle the remaining gingersnaps evenly on top of the pumpkin mousse.
Place the rest of the whipped topping on top and smooth it out.
To find more fun fall recipe inspiration, click HERE!